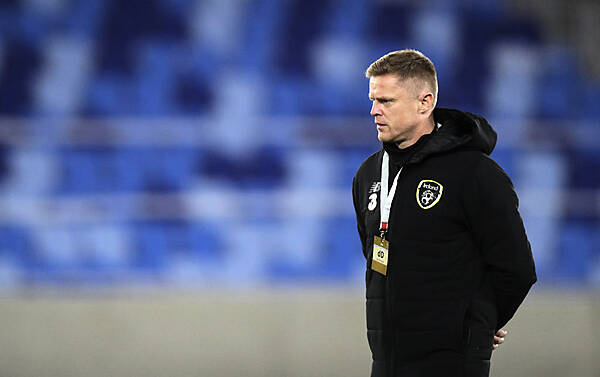 James Cox
Damien Duff and Alan Kelly clashed over Stephen Kenny's speech following the now infamous video shown to the Ireland squad before the 3-0 friendly defeat to England in November.
The row 'ultimately led' to their departure from the Ireland backroom staff.
According to the Irish Examiner, Duff and Kelly exchanged heated words over the video and subsequent speech by Kenny.
Kelly was understood to be unhappy with the video and aspects of Kenny's 20-minute speech.
This resulted in an argument between Duff and Kelly, who played together for Ireland and Blackburn Rovers.
Following the UEFA Nations League game against Wales in Cardiff three days later, Kelly cited health concerns for not travelling with the squad for the game against Bulgaria in Dublin.
Kelly was then forced to deny he was behind the 'leak' of information about the video, with Kenny supporting this.
An investigation into the video, which touched on the history between Ireland and England along with previous games between the countries, followed from the FAI.
The association took no further action after speaking with Kenny and a number of senior internationals.
An FAI statement read: "Earlier this week issues regarding content shared with the senior Ireland men's team ahead of the recent friendly against England at Wembley Stadium were brought to the attention of the FAI.
"Following this development, the FAI decided it was appropriate to look into the matter. Since then the FAI has had discussions with a number of staff members and players, including the team manager, Stephen Kenny.
"The Board has accepted the explanations provided and considers that the matter is now closed."
Duff's decision to step down came last Friday and it came as a surprise to many, with Kelly following suit on Tuesday night.
Health concerns
The goalkeeping coach cited health concerns surrounding the Covid-19 pandemic as his reason for leaving the Ireland set-up.
The Irish Examiner reports that Kenny is waiting on an answer from his preferred candidate to replace Duff and in the process of selecting a replacement for Kelly.