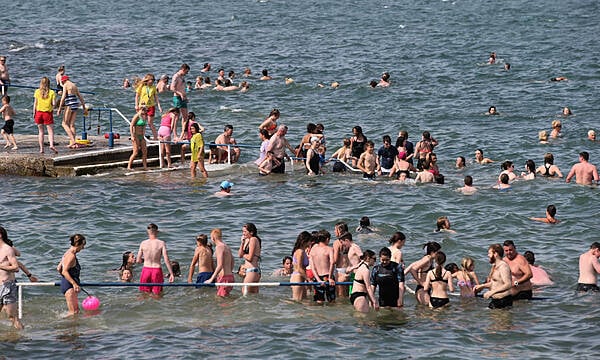 Vivienne Clarke
Met Éireann has issued an advisory warning for warm weather ahead of an anticipated heatwave over the next few days.
The national forecaster said: "Ireland will experience a hot spell developing from Wednesday and continuing through the rest of the week and the weekend.
"Daytime temperatures will widely reach the mid to high twenties. Remaining uncomfortably warm overnight too."
On Monday morning, mist and fog patches will clear away from most areas but may linger near some coasts.
Otherwise, it will be another dry day for most with long spells of sunshine, with a chance of rain in the far northwest and top temperatures ranging from 18 to 24 degrees.
Met Éireann weather forecaster Conall Ruth cautioned the public to look out for the elderly and the vulnerable later this week when temperatures are set to rise.
Speaking on RTÉ radio's Morning Ireland, Mr Ruth also urged people to wear sunscreen, to stay hydrated, to exercise caution when near water and to take care when using barbeques.
The current region of high pressure over the country has meant largely clear skies as well as very light winds, he explained.
"During the day that allows the sun to shine through and really heat up the land and the air above it.
"What we're also going to see over the coming days is that high pressure tracking away to the east – towards Denmark and beyond and as it does so the air flow around that high pressure will also draw up a lot of warm Continental air from mainland Europe that will also contribute a lot to the very warm temperatures that we're expecting."
While there was some uncertainty about exact temperatures, he said, generally there will be widespread high temperatures from the mid-20s from Wednesday.
Today will be dry with long sunny spells🌤️, turning a bit hazy at times.

Highest temperatures🌡️ of 18 to 23 degrees, warmest in the southeast.

Light winds🍃, westerly or variable. pic.twitter.com/Jmzk790oEZ

— Met Éireann (@MetEireann) August 8, 2022
"Generally the south east of the country is expected to see the highest temperatures over the coming days, but the midlands will also get very hot as we head through the weekend and it will stay coolest near western and northwestern coasts, but based on current projections all areas can expect to see temperatures reach at least the low-20s over the weekend."
When asked if this predicted heatwave was the result of global warming, Mr Ruth said it was difficult to attribute any single event to climate change, "but certainly spells of hot weather like this are something we are seeing more frequently as we continue to change the climate and that's really going to continue as we move forward."